via wyff.com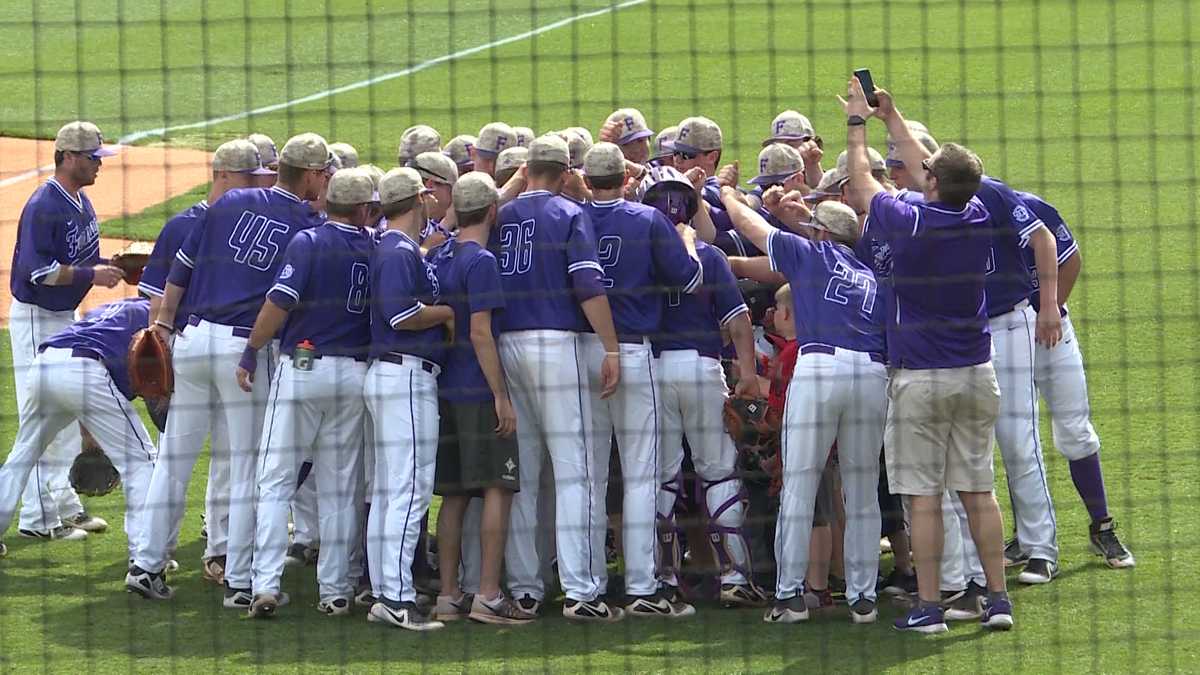 GREENVILLE, S.C. – Furman University announced on Monday the decision to cut its baseball and men's lacrosses athletic programs. The Paladins baseball program started in 1896 and has played all but 5 seasons in the 124 years since.This year, the baseball team had an 8-9 record in a season that was shortened because of coronavirus. Players and coaches were disappointed but optimistic about what they could accomplish next year."I think most of us were shocked," junior Blake Brady said. "For me personally, I spoke with Coach Harker yesterday about how excited we were to get back and the things we thought out team could do."Pitching coach Kaleb Davis was hired when Brett Harker took over the Paladins program in 2016."It's sad but there's a frustrating element to it as well," Davis said. "Because we're not like every other Division 1 baseball program. Our guys are so well-rounded athletically and academically that coming to Furman is a big deal. Coach Harker, I feel so bad. This is his hometown. This is his first head coaching job. We're all his orginal staff. I can't emphasize enough how heartbroken I am for our guys."Brady is from Greenville and since joining the Furman program, his friends have had the chance to watch him play at Fluor Field. "I'm heartbroken not only for my teammates but for the Greenville community too," Brady said. "I know we looked at ourselves as Greenville's University.""This whole area is the king of college baseball," Davis said. "To lose a team that's been around for 100 plus years it's going to be a hit."Both Davis and Brady say that although their journey at Furman has now come to an end, they are grateful for the time they spent with the Paladins program."My daughter is 3-years-old," Davis said. "She knows nothing in her short time other than Daddy's 'Dins. She grew up in my office and in our bullpen. She doesn't even refer to the color purple as purple she refers to it as the 'Dins. For me for the rest of my life I'll think about the opportunity I had to involve my little girl in something I did for a living. I love my guys and that will always stand out to me the most.""I'm thankful for the coaching staff for giving me an opportunity to play," Brady said. "I'm thankful for the amount of time they put in. It's definitely one of those things I'll look back down the road and one word to describe it is being grateful for our time there."
GREENVILLE, S.C. – Furman University announced on Monday the decision to cut its baseball and men's lacrosses athletic programs. The Paladins baseball program started in 1896 and has played all but 5 seasons in the 124 years since.
This year, the baseball team had an 8-9 record in a season that was shortened because of coronavirus. Players and coaches were disappointed but optimistic about what they could accomplish next year.
"I think most of us were shocked," junior Blake Brady said. "For me personally, I spoke with Coach Harker yesterday about how excited we were to get back and the things we thought out team could do."
Pitching coach Kaleb Davis was hired when Brett Harker took over the Paladins program in 2016.
"It's sad but there's a frustrating element to it as well," Davis said. "Because we're not like every other Division 1 baseball program. Our guys are so well-rounded athletically and academically that coming to Furman is a big deal. Coach Harker, I feel so bad. This is his hometown. This is his first head coaching job. We're all his orginal staff. I can't emphasize enough how heartbroken I am for our guys."
Brady is from Greenville and since joining the Furman program, his friends have had the chance to watch him play at Fluor Field.
"I'm heartbroken not only for my teammates but for the Greenville community too," Brady said. "I know we looked at ourselves as Greenville's University."
"This whole area is the king of college baseball," Davis said. "To lose a team that's been around for 100 plus years it's going to be a hit."
Both Davis and Brady say that although their journey at Furman has now come to an end, they are grateful for the time they spent with the Paladins program.
"My daughter is 3-years-old," Davis said. "She knows nothing in her short time other than Daddy's 'Dins. She grew up in my office and in our bullpen. She doesn't even refer to the color purple as purple she refers to it as the 'Dins. For me for the rest of my life I'll think about the opportunity I had to involve my little girl in something I did for a living. I love my guys and that will always stand out to me the most."
"I'm thankful for the coaching staff for giving me an opportunity to play," Brady said. "I'm thankful for the amount of time they put in. It's definitely one of those things I'll look back down the road and one word to describe it is being grateful for our time there."
Upstate News Headlines