via wyff.com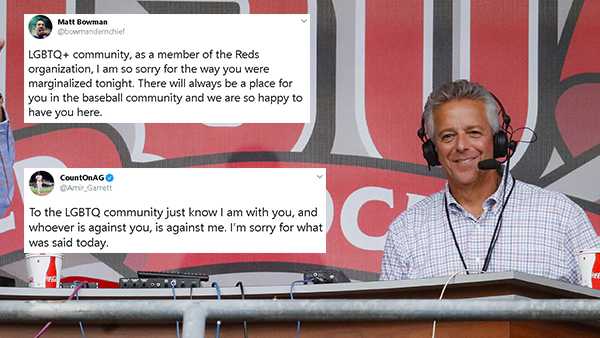 Cincinnati Reds players spoke out Wednesday night after the team's announcer Thom Brennaman was suspended for using a homophobic slur on air.According to Jeff Passan, an MLB insider for ESPN, Brennaman was caught on a hot mic saying, "one of the (expletive) capitals of the world" while broadcasting before the top of the seventh inning in the first game of a doubleheader.Passan tweeted a video of Brennaman using the homophobic slur.Brennaman continued to announce for the second game of the doubleheader against Kansas City Wednesday evening.Later in the game, Brennaman issued an apology to the public saying he is deeply sorry and prides himself on being a man of faith. Brennaman also said he doesn't know if he will still have a job."I don't know if I will be putting on this headset again," he said.He then issued another apology to anyone who was offended."I'm very, very sorry and beg for your forgiveness," he said.Brennaman then left the game in the top of the fifth inning and was replaced by Jim Day on the broadcast.Late Wednesday night, the Cincinnati Reds released an official statement regarding the incident, saying Brennaman has been suspended from doing Reds broadcasts:"The Cincinnati Reds organization is devastated by the horrific, homophobic remark made this evening by broadcaster Thom Brennaman. He was pulled off the air, and effective immediately was suspended from doing Reds broadcasts. We will be addressing our broadcasting team in the coming days. In no way does this incident represent our players, coaches, organization, or our fans. We share our sincerest apologies to the LGBTQ+ community in Cincinnati, Kansas City, all across this country, and beyond. The Reds embrace a zero-tolerance policy for bias or discrimination of any kind, and we are truly sorry to anyone who has been offended."Red players took to Twitter later that night, sharing their reactions and apologizing for what happened during the game."LGBTQ+ community, as a member of the Reds organization, I am so sorry for the way you were marginalized tonight. There will always be a place for you in the baseball community and we are so happy to have you here," player Matt Bowman said.Amir Garret also tweeted, saying "to the LGBTQ community just know I am with you, and whoever is against you, is against me. I'm sorry for what was said today."
CINCINNATI —
Cincinnati Reds players spoke out Wednesday night after the team's announcer Thom Brennaman was suspended for using a homophobic slur on air.
According to Jeff Passan, an MLB insider for ESPN, Brennaman was caught on a hot mic saying, "one of the (expletive) capitals of the world" while broadcasting before the top of the seventh inning in the first game of a doubleheader.
Passan tweeted a video of Brennaman using the homophobic slur.
Brennaman continued to announce for the second game of the doubleheader against Kansas City Wednesday evening.
Later in the game, Brennaman issued an apology to the public saying he is deeply sorry and prides himself on being a man of faith. Brennaman also said he doesn't know if he will still have a job.
"I don't know if I will be putting on this headset again," he said.
He then issued another apology to anyone who was offended.
"I'm very, very sorry and beg for your forgiveness," he said.
Brennaman then left the game in the top of the fifth inning and was replaced by Jim Day on the broadcast.
Late Wednesday night, the Cincinnati Reds released an official statement regarding the incident, saying Brennaman has been suspended from doing Reds broadcasts:
"The Cincinnati Reds organization is devastated by the horrific, homophobic remark made this evening by broadcaster Thom Brennaman. He was pulled off the air, and effective immediately was suspended from doing Reds broadcasts. We will be addressing our broadcasting team in the coming days. In no way does this incident represent our players, coaches, organization, or our fans. We share our sincerest apologies to the LGBTQ+ community in Cincinnati, Kansas City, all across this country, and beyond. The Reds embrace a zero-tolerance policy for bias or discrimination of any kind, and we are truly sorry to anyone who has been offended."
Red players took to Twitter later that night, sharing their reactions and apologizing for what happened during the game.
"LGBTQ+ community, as a member of the Reds organization, I am so sorry for the way you were marginalized tonight. There will always be a place for you in the baseball community and we are so happy to have you here," player Matt Bowman said.
Amir Garret also tweeted, saying "to the LGBTQ community just know I am with you, and whoever is against you, is against me. I'm sorry for what was said today."
Upstate News Headlines