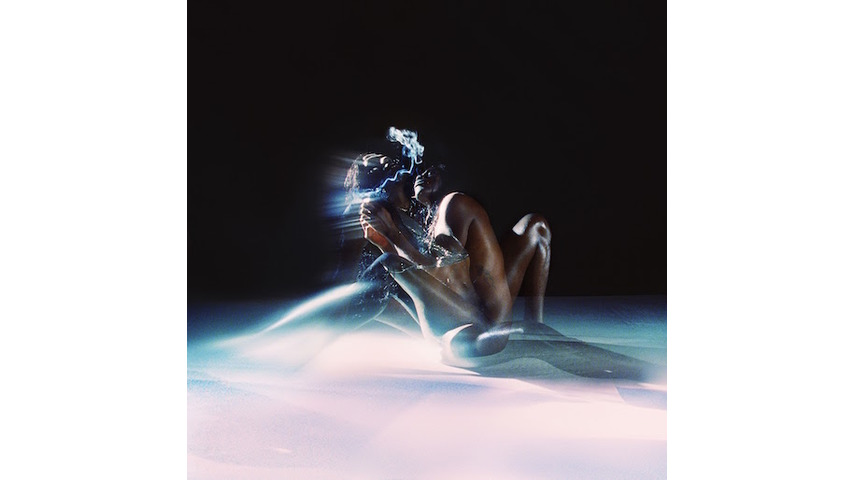 Yves Tumor's new album opens with Sean Bowie shouting "I think I can solve it / I can be your all." Later, on "Medicine Burn," they claim "I can't lift my own troubles," then shout a reversal on single "Kerosene!": "I can be anything / tell me what you need." Heaven To A Tortured Mind is emphatically about what Tumor can and can't do, because what else are pop anthems about? "Creep" is about how Radiohead is incapable of fitting in with mainstream society, while "I Will Always Love You" is a declaration of Whitney Houston's enduring love amid crisis. Yves Tumor have long skirted the line between pop candor and experimental psychedelia, often landing somewhere far away from both in a wonderland of threatening, dagger-sharp guitar riffs and gossamer vocal production.
In many ways, 2018's Safe in the Hands of Love was Tumor's official rockstar moment. Listening to Heaven To A Tortured Mind will make you question your own memories of the singer, because they've never sounded more immediate, more relatable or more desirously messy. Their trademark filth and trickster persona are still present, though they've graduated from demon to the devil himself. Album opener "Gospel For A New Century" is their most straightforward song to date, a playful horn-based rock song that channels the individual iconoclasms of Prince and Marilyn Manson. The Isamaya Ffrench-directed video offers the perfect visual for the familiar archetype Tumor plays throughout the album—a cloven-hoofed devil with diabolical cheekbones, not unlike Tim Curry's Lord of Darkness from Legend, with a legion of Soul Train-ready devils marching behind them.
Known for their lyrical skill, Tumor's songs often feel mythic and forbidden. On Heaven, though, their lyrics almost feel cliché. That's probably purposeful—they're reinterpreting all of these sounds, playing with the inherent darkness and malaise that comes with being a rock god. On "Super Stars", a slowed Boyz II Men-esque jam with Hirakish's lilting falsetto and cloyingly romantic guitar frenzies, Tumor coos out one of the oldest lines in the book: "Girl when I'm with you / It's like super stars." There's no decoding necessary for that one. It's an expression well-archived in the annals of sentimental balladry, but Tumor's intention remains slyly obscured.
Much of the album consists of these mischievous pop references. You'd be forgiven for thinking album closer "A Greater Love" was a Thundercat track, with its cacophony of electric pianos nodding to yacht rock and prog legends of old at once. At its heart, it's a funk track, but one filtered through 50 years of iterations on the genre—Tumor is there in the eye of the storm, the source of calamity.
Throughout the record, Tumor expands on the self-exalting cult of personality they've been gesturing towards for the past decade. "Kerosene!" portrays a devil's deal, an exchange for a woman's eternal love. Tumor beckons, both like a superstar flexing his influence and like a night terror, "I can live in your dreams / I can be what you need me to, baby." Tumor's voice harmonizes almost seamlessly alongside Diana Gordon's Sinead-esque belts as they shout "I need kerosene!" Gordon's post-chorus is one of the most arena-moving, lighter-flickering powerhouses in a pop song from the last 20 years—it's the fuel for the fire Tumor wants to (or must) light on "Gospel." I can think of only one other instance where such a fire has been kindled.
Tumor's past obsessions are still here, too. They still have the mesmerizing percussive soundscapes of a contemporary Dean Blunt. Serpent Music, Tumor's breakout, was defined by the dream worlds it was able to achieve through noise and blabbing sounds. You can hear the call of this chattering compulsion on "Folie Imposée," which leads with a looping, short riff that is later removed, chopped and bubbling. Tumor's voice floats just beneath the surface. They render the same paralysis present on "The Feeling When You Walk Away," a haunted pool of memory and unresolved tensions.
Heaven further solidifies Tumor as the torch-bearer for their recently passed icon, Genesis P-Orridge, one of the only influences they continue to cite. P-Orridge lived as an art piece, altering h/er mind, body and spirit to exist as a ceaseless, flawed work-in-progress, a shifting inconsistency that reflects the ever-changing nonsense of queer existence. Tumor seems to be an attentive student; they continue to be elusive and intriguing, a rare artist who lives out their work in real-time. Once the pen meets paper, it explodes—shimmery, nauseating and with a knowing grin.
The record, with all its idiosyncrasies, will be remembered as a definitive piece by one of our era's most important rock icons—a pop star as transgressive and rule-breaking as the legends of the '70s and '80s we take for granted now. Heaven is irreconcilably an album with staying power, one we'll be referring to years from now as a benchmark for the sound of rock n' roll and R&B. Tumor is an enigma, one who will continue to prove their sleeves teem with new tricks.
Upstate News Headlines