Listen to the latest episodes from your favorite Upstate South Carolina Podcast: The Rise Guys, stories from the local food scene by Tin Roof Farms with John Malik, local music spotlights from Northwest Corner and Hoodoo Music and comedy from The Bearded One. We also have listen live links to WNCW and Charlie Mason Radio.
If you have a podcast and want to be listed, please let us know by emailing us at: music@bizzapps.net!
Rise Guys
THE RISE GUYS: HOUR ONE: 10/17/19
| 2019-10-17
Nine has returned with a sexual whisper, Mattman says he sounds like a Ying Yang Twin 8===D -2 women fight over 1 man in the middle of a highway. Black eyes, busted lips & mouth injuries too! 🙂 -An NFL player gets assaulted after taking selfie with fan
View All Episodes
---
The Grey Zone
The Grey Zone CLEMSON FINALLY GETS RESPECT! 10162019 with Dave Galloway, 2019 CFB Week 7 review and week 8 Preview
| 2019-10-16
  When you dont know where to turn, you can always turn to my extremely salubrious guest, my buddy, Clemson fan, Watsons dad, and legendary star of Fete Greenville TV, its Dave Galloway!    Daves such a good guy he doesnt even hate everything about the Tennessee Volunteers!  Whats that like? We dive in to find out from the Growler Haus in the Village of West Greenville!    Go forth and be the best fans you can be out there, yall. Cheers!   Get your iONGreenville picks in HERE!    The Grey Zone is hosted by Grey Thompson  Produced by GVL Media --- Interested in creating a podcast?  Create your own original podcast with GVL Media! This episode was produced in association with Sit-N-Spin Studios, "the best damn recording studio in downtown Greenville, SC."
View All Episodes
---
The Bearded One Comedy Podcast
THE BEARDED ONES Ep 343: HALLOWEEN WK 2 2019: HORROR VILLAIN BEST MAN BRACKETS!!!
| 2019-10-15
Where we start spooky with some shout outs..MMWWAAA HAA HAAA.... Brandon James new podcast Periodt.... Julie Kottakis book.. Yulia and Greg and Bryan Gallaghers new podcast Mill City Comedy Greenroom..links below. THEN we get into Evans failed attempt at a Drive-Thru prank, a news report on a monster WE created, Evans almost failed Chucky prank, a pointless voice changer..which at least gives us Trucker Creepy Bane, Freddys writing staff, play another round of movie swap and close with a new bracket.. this time... Which Horror Villain Would Make Jasons Best Best-Man!!! MWWAAA   P.s.-Kids, if you listen.. a horror icon will go redneck for no good reason.   Check out Periodt here..... https://open.spotify.com/show/7xUvEfdTZTFD0UdS8rclXV   Check out Julies Book here..... https://www.wattpad.com/790439844-yulia-and-greg-hamilton-rock-paper-scissors   AND Bryans podcast here..... https://podcasts.apple.com/us/podcast/mill-city-comedy-greenroom/id1482705941
View All Episodes
---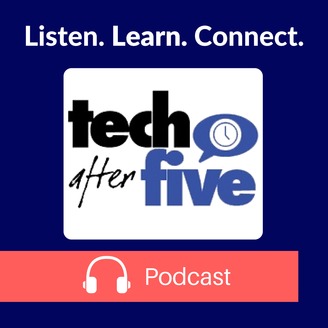 Tech After 5
Will the GizmoWatch Work for You or Your Kids?
| 2019-09-29
In our last podcast on Good Digital Parenting, Kate Jay of Verizon mentioned the GizmoWatch as a great option for your child that might not be ready for a smartphone, but might be ready for some of the features you might get with a smartphone. Well, that got me curious. Does the GizmoWatch really work? I got one to test and invited my special test subject into the studio to get some reaction. Lets talk about the GizmoWatch. Your host for this episode: Phil Yanov is the Founder and Lead Community Organizer of Tech After Five. (TechAfterFive.com) --- Tech After Five offers live, face to face networking events for I. T. professionals. Whether you are looking for tech talent or you are talent looking for the next step in your career, we offer a path towards connection. Sign up for event announcements, networking classes and tips an our website https://techafterfive.com. Follow us on Facebook, Instagram or Twitter. @TechAfterFive.
View All Episodes
---
Tin Roof Farm Radio Show
Euphoria 2019 Recap
| 2019-09-22
Participating in a food and wine festival as a chef is quite demanding. Theres high expectations and a sense of urgency as well our normal work routine to manage. The day after Greenvilles four day food and wine festival, Euphoria, I invited Chefs Jacques Larson and Jeff Kelly, cheesemaker Christian Hansen of Blue Ridge Creamery, and food writer Ted Lee of the Lee Brothers into the studio to discuss Euphoria.
View All Episodes
---
The Ron and Craig Show
Finalists on NBC's "Bring The Funny"
| 2019-09-05
Meet The Chris & Paul Show. From NBCs "Bring The Funny Show"
View All Episodes
---
Red Arrow Studios
Red Arrow Top 5 Show 12
| 2019-08-12
This week featuring H. C. McEntire, Year Of October, OLM, J.L. Fulks, and Tigerdog.
View All Episodes
---
WNCW
Listen Live
| 2019-04-28
Radio made the old fashioned way, live DJ's handpicking the music you hear. Learn more at
wncw.org
View All Episodes
---
Hoodoo Music
"I would never actually talk about rubbing kittens together"
| 2019-04-28
The Parlor Pinks are an industrial psych duo in the Greenville area with a real heart for the local scene. Not only do they perform live shows, they are helping other artists by hosting and planning events with mixed bills, which I am personally all about! Check out this episode and give them a follow on the socials! For more of The Parlor Pinks: http://theparlorpinks.com Subscribe to the podcast and everything else here: https://linktr.ee/hoodoo.music.pod Follow the new instagram: @hoodoo.music.pod If you want to support the show and my endeavor to record bands for free you can make a recurring monthly donation at http://patreon.com/markjonesaudio or one-time donations at https://ko-fi.com/hoodoosessions - No money? I feel you, fam. How about share links to your favorite episodes of the podcast? And don't forget to rate and review!
View All Episodes
---

NORTHWEST CORNER PODCAST
EP 157: with Jen Aly
| 2019-04-14
Meet Jen Aly of Jen Aly Coaching, and our new friend. Jen is a business and money coach for artists, creatives, and rebels! Shes loaded with knowledge and shes a lot of fun to talk to. Theres something for everyone on this episode of the Northwest Corner Podcast! To learn more about Jen Aly Coaching, please visit her website at http://jenalycoaching.com. And to learn more about the Northwest Corner Podcast, you can find us at http://northwestcornerpodcast.com
View All Episodes
---
Charlie Mason Radio
Listen Live
| 2019-04-01
Bringing independent and small label music to the world and bring business and entertainment together.
View All Episodes
---
Comment via Facebook