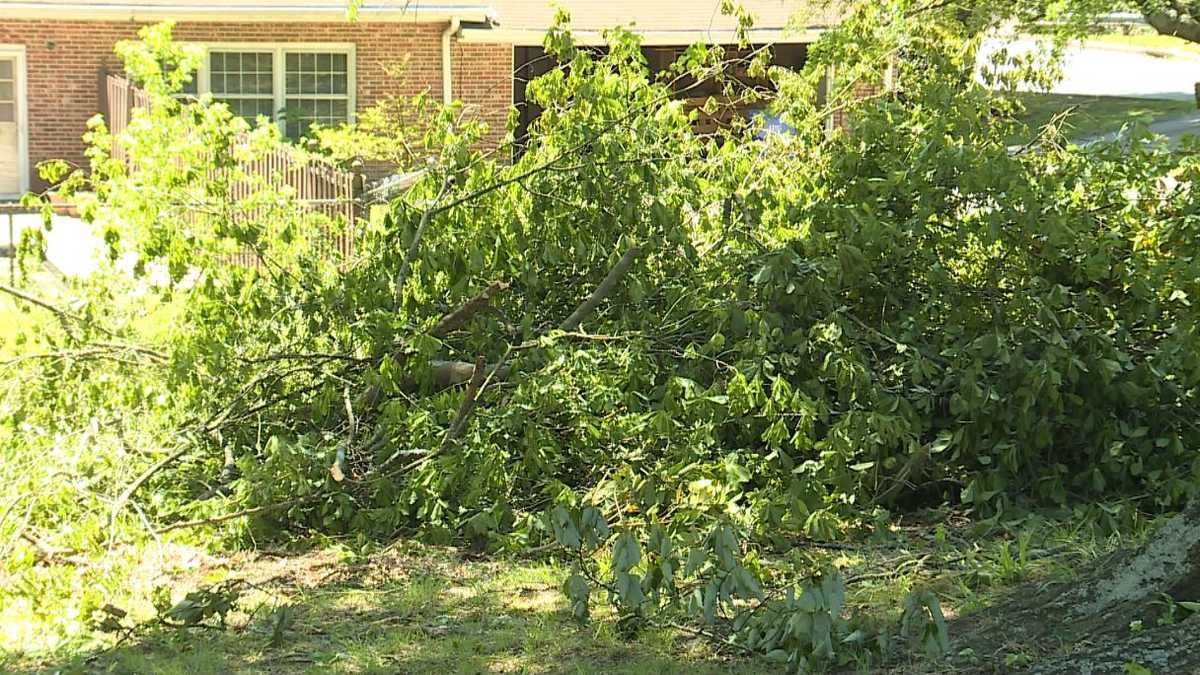 The large pile of tree limbs sitting in Kathleen's back yard was supposed to be removed over the weekend by a tree service. They weren't. "I was just in shock," she said. The 91-year-old Greenville County resident was doing yard work Friday afternoon when a man pulled up in a truck offering to trim trees. "I kept asking him how much, but he would never tell me a price," she said. "Only thing he said was, 'I tell you, $85 an hour and won't be more than that,'" she said he told her. "But I'll charge you right," she said he said. So she let him look around. "He did tell me I had termites I had to get rid of," she said. She said she signed an agreement to let him do the job and about two hours later, she said, he packed up and left behind tree limbs in her back yard. She said he'd told her he'd come and pick them up the next day. The name of the man is David Broadway, according to the bill. Kathleen said Broadway handed her the bill for $3,500 that day and she paid it. "He told me he gave me 30% off and told me if he hadn't given me 30% off it would have been $5,400 when I complained about it," she said. The next day, she said, he never showed. "I called him and asked if he would give me some of the money back and he said no," she said. "He said that I signed it and he was covered." WYFF NEWS 4 called Broadway Tuesday morning. The contact number had an Atlanta area code. As of Tuesday evening, WYFF News 4 has not heard back. The business on the answering machine was Triple A Tree Service. A search in the BBB showed there wasn't a business with that name in the state of Georgia. Greenville County Sheriff Hobart Lewis suggests being on the lookout for people looking to make a quick buck, especially as people recover from tornado damage in parts of Greenville County. "Know what you're paying, know what the cost is, get that written estimate and if there's some type of controversy or something going on, don't be afraid to notify us and let us know, let us come out there," said Lewis. "It would be a civil matter in some cases if you are arguing about the bill." Edward Road Baptist Church got wind of the news from Kathleen and on Monday, some members took her limbs to the curb themselves. "She volunteers at St. Francis, she works in our children's ministry with our nursery, she sings in our senior choir and she is such a giving caring spirit that she's really just an amazing lady," said Clay Smith, worship pastor at Edwards Road Baptist Church. Now Kathleen said she's sharing her story so it doesn't happen to anybody else. "I don't want to be on television, I don't want to be doing this," she said. "But if I can save somebody else from being jipped like this, it's worth it because I don't think God intends for us to take advantage of people."
GREENVILLE COUNTY, S.C. —
The large pile of tree limbs sitting in Kathleen's back yard was supposed to be removed over the weekend by a tree service.
They weren't.
"I was just in shock," she said.
The 91-year-old Greenville County resident was doing yard work Friday afternoon when a man pulled up in a truck offering to trim trees.
"I kept asking him how much, but he would never tell me a price," she said. "Only thing he said was, 'I tell you, $85 an hour and won't be more than that,'" she said he told her. "But I'll charge you right," she said he said.
So she let him look around.
"He did tell me I had termites I had to get rid of," she said.
She said she signed an agreement to let him do the job and about two hours later, she said, he packed up and left behind tree limbs in her back yard. She said he'd told her he'd come and pick them up the next day.
The name of the man is David Broadway, according to the bill. Kathleen said Broadway handed her the bill for $3,500 that day and she paid it.
"He told me he gave me 30% off and told me if he hadn't given me 30% off it would have been $5,400 when I complained about it," she said.
The next day, she said, he never showed.
"I called him and asked if he would give me some of the money back and he said no," she said. "He said that I signed it and he was covered."
WYFF NEWS 4 called Broadway Tuesday morning. The contact number had an Atlanta area code. As of Tuesday evening, WYFF News 4 has not heard back.
The business on the answering machine was Triple A Tree Service. A search in the BBB showed there wasn't a business with that name in the state of Georgia.
Greenville County Sheriff Hobart Lewis suggests being on the lookout for people looking to make a quick buck, especially as people recover from tornado damage in parts of Greenville County.
"Know what you're paying, know what the cost is, get that written estimate and if there's some type of controversy or something going on, don't be afraid to notify us and let us know, let us come out there," said Lewis. "It would be a civil matter in some cases if you are arguing about the bill."
Edward Road Baptist Church got wind of the news from Kathleen and on Monday, some members took her limbs to the curb themselves.
"She volunteers at St. Francis, she works in our children's ministry with our nursery, she sings in our senior choir and she is such a giving caring spirit that she's really just an amazing lady," said Clay Smith, worship pastor at Edwards Road Baptist Church.
Now Kathleen said she's sharing her story so it doesn't happen to anybody else.
"I don't want to be on television, I don't want to be doing this," she said. "But if I can save somebody else from being jipped like this, it's worth it because I don't think God intends for us to take advantage of people."
Upstate News Headlines