via wyff.com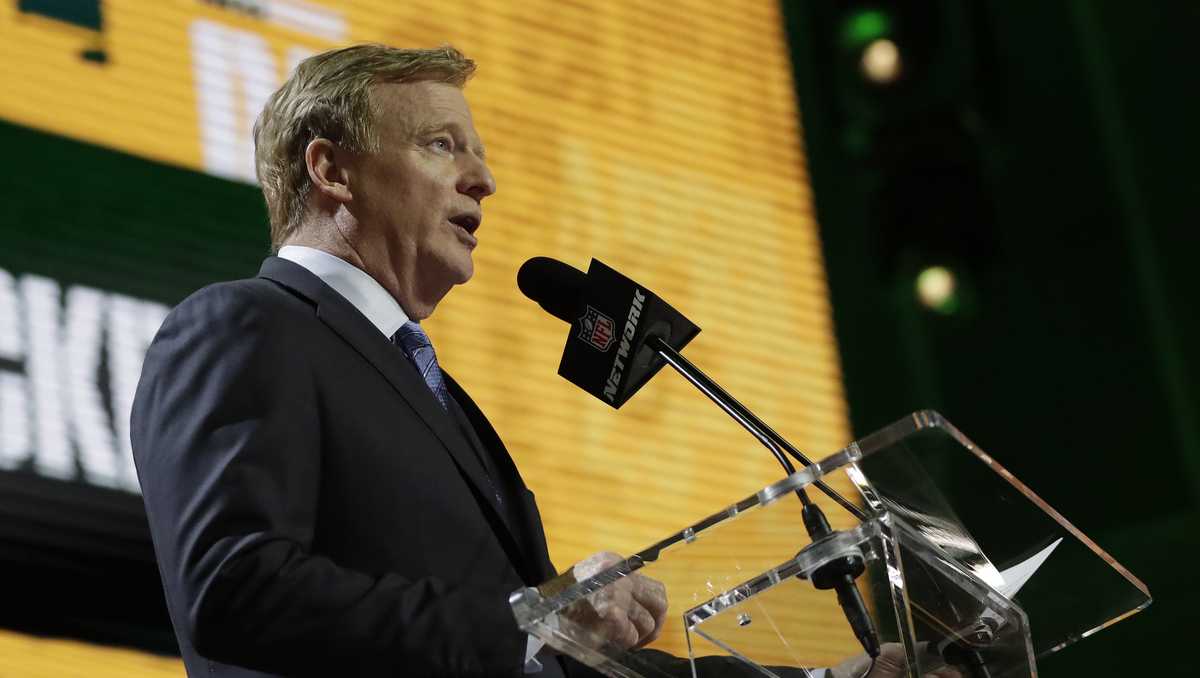 The NFL Draft will continue as scheduled April 23-25, according to a memo from Commissioner Roger Goodell obtained by several news outlets. Last week, Goodell announced that the draft would take place as scheduled, but under a modified format without public events. Goodell's latest memo, obtained by ESPN and NFL.com, says "public discussion of issues relating to the draft serves no useful purpose and is grounds for disciplinary action.""Everyone recognizes that public health conditions are highly uncertain and there is no assurance that we can select a different date and be confident that conditions will be significantly more favorable than they are today," Goodell's memo says. The memo says prospects and their families will not attend the draft and encourages teams to plan "to conduct draft operations in a location outside of your facility, with a limited number of people present, and with sufficient technology resources to allow you to communicate internally, with other clubs, and with draft headquarters."Last week's announcement said the draft will be televised regardless of its venue or format."In consideration of current information related to COVID-19 and guidance from medical experts such as the CDC, and in coordination with public authorities in Nevada and the city of Las Vegas, the NFL will modify its plans," the league said in a statement.The NFL says it is exploring "innovative options" for how the process will be handled and will provide that information as it becomes available."This decision reflects our foremost priority: the health and safety of all fans and citizens," Goodell said. "While this outcome is disappointing both to the NFL and to the Las Vegas community, we look forward to partnering with the Raiders, the city of Las Vegas and the Las Vegas Convention and Visitors Authority for a future NFL draft as well as evaluating opportunities for other major NFL events in Las Vegas in the future, including the Super Bowl."
The NFL Draft will continue as scheduled April 23-25, according to a memo from Commissioner Roger Goodell obtained by several news outlets.
Last week, Goodell announced that the draft would take place as scheduled, but under a modified format without public events.
Goodell's latest memo, obtained by ESPN and NFL.com, says "public discussion of issues relating to the draft serves no useful purpose and is grounds for disciplinary action."
"Everyone recognizes that public health conditions are highly uncertain and there is no assurance that we can select a different date and be confident that conditions will be significantly more favorable than they are today," Goodell's memo says.
The memo says prospects and their families will not attend the draft and encourages teams to plan "to conduct draft operations in a location outside of your facility, with a limited number of people present, and with sufficient technology resources to allow you to communicate internally, with other clubs, and with draft headquarters."
Last week's announcement said the draft will be televised regardless of its venue or format.
"In consideration of current information related to COVID-19 and guidance from medical experts such as the CDC, and in coordination with public authorities in Nevada and the city of Las Vegas, the NFL will modify its plans," the league said in a statement.
The NFL says it is exploring "innovative options" for how the process will be handled and will provide that information as it becomes available.
"This decision reflects our foremost priority: the health and safety of all fans and citizens," Goodell said. "While this outcome is disappointing both to the NFL and to the Las Vegas community, we look forward to partnering with the Raiders, the city of Las Vegas and the Las Vegas Convention and Visitors Authority for a future NFL draft as well as evaluating opportunities for other major NFL events in Las Vegas in the future, including the Super Bowl."
Upstate News Headlines