via wyff.com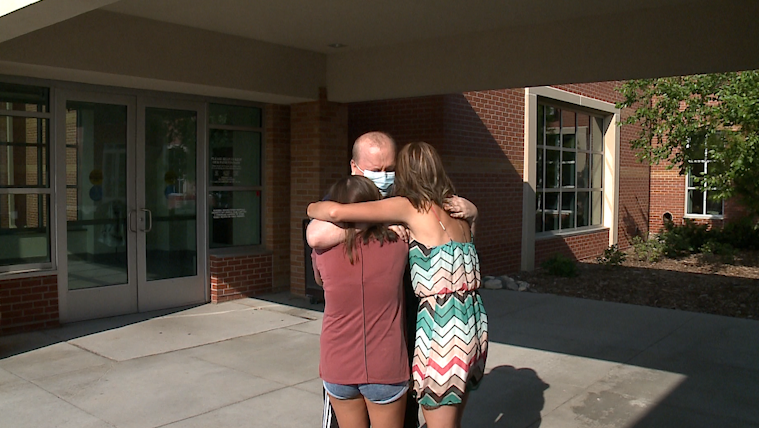 After surviving a dangerous case of COVID-19, Jacob Chlopek was finally sent home Tuesday morning. Jaina Chlopek was stunned. She ran into the arms of her father, Jacob, for a big hug. It was long overdue. Their entire family joined them in tears outside of the Madonna Rehabilitation Hospital in Omaha, Nebraska.Jacob's journey is not over. He will now go through a year's worth of outpatient treatments. "It's no joke," said Jacob Chlopek. "It's not a flu. It's not your simple cold. It changed my life." Jaina was unsure when her dad would be released. He was in the hospital for nearly two months. Jaina motivated Jacob to keep going. She was distraught when he was first diagnosed with COVID-19, unable to hug her dad since May. She said she kept a countdown journal until they could meet in person again."Everyday I write a smiley face, a frowny face or just a face with like a straight line, and then I write notes next to it on what made that day the day it was, and everyday at 7 o'clock dad calls me, so we can talk about our day," said Jaina Chlopek. Jacob said he does not know where he caught the virus. He knows only that it first started with a minor sore throat then quickly spiraled out of control."They said to quarantine for 14 days," said Jacob Chlopek. "Well I was good. I thought I beat it, because it was like day 11 or 12. I was like, 'Oh, I'm good.' I woke up in the middle of the night and could not breathe." Because Jacob was a double-kidney transplant recipient, the family said he suffered numerous complications due to COVID-19. Jacob contracted Guillan-Barre Syndrome and his immune system began attacking his nerves and paralyzing parts of his body. Jacob was sent to the ICU, went into a coma and put on a ventilator."We thought it was game over," said Kendall Chlopek.The Chlopek family is asking for help, paying for Jacob's medical bills as well as his recovery. If you would like to donate, visit the GoFundMe page: "Blessings for Jacob."
OMAHA, Neb. —
After surviving a dangerous case of COVID-19, Jacob Chlopek was finally sent home Tuesday morning.
Jaina Chlopek was stunned. She ran into the arms of her father, Jacob, for a big hug. It was long overdue. Their entire family joined them in tears outside of the Madonna Rehabilitation Hospital in Omaha, Nebraska.
Jacob's journey is not over. He will now go through a year's worth of outpatient treatments.
"It's no joke," said Jacob Chlopek. "It's not a flu. It's not your simple cold. It changed my life."
Jaina was unsure when her dad would be released. He was in the hospital for nearly two months. Jaina motivated Jacob to keep going. She was distraught when he was first diagnosed with COVID-19, unable to hug her dad since May. She said she kept a countdown journal until they could meet in person again.
"Everyday I write a smiley face, a frowny face or just a face with like a straight line, and then I write notes next to it on what made that day the day it was, and everyday at 7 o'clock dad calls me, so we can talk about our day," said Jaina Chlopek.
Jacob said he does not know where he caught the virus. He knows only that it first started with a minor sore throat then quickly spiraled out of control.
"They said to quarantine for 14 days," said Jacob Chlopek. "Well I was good. I thought I beat it, because it was like day 11 or 12. I was like, 'Oh, I'm good.' I woke up in the middle of the night and could not breathe."
Because Jacob was a double-kidney transplant recipient, the family said he suffered numerous complications due to COVID-19. Jacob contracted Guillan-Barre Syndrome and his immune system began attacking his nerves and paralyzing parts of his body. Jacob was sent to the ICU, went into a coma and put on a ventilator.
"We thought it was game over," said Kendall Chlopek.
The Chlopek family is asking for help, paying for Jacob's medical bills as well as his recovery. If you would like to donate, visit the GoFundMe page: "Blessings for Jacob."
Upstate News Headlines