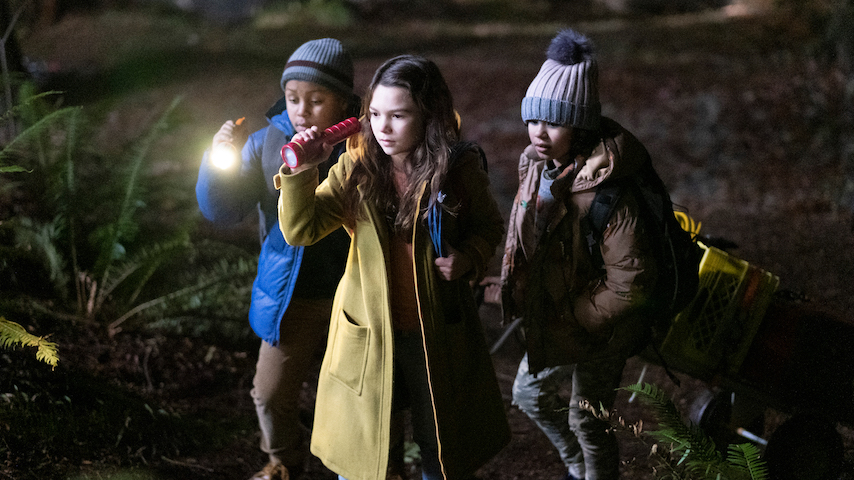 Outliers like Mary Tyler Moore, Murphy Brown and Broadcast News' Jane Craig aside, television and film have routinely been unkind in their portrayals of female journalists. From Thank You For Smoking to Trainwreck to House of Cards, the mediums teach their audiences that we sleep with our sources, routinely lie and cheat to get stories, and may also be stupid enough to meet nefarious politicians near dark subway platforms after deleting all incriminating evidence against them.
Things hit a #MeToo-appropriate fever pitch last winter with the release of writer Billy Ray and director Clint Eastwood's Richard Jewell, a biopic about the wronged 1996 Olympics security guard that, ironically, alleged the late Atlanta Journal Constitution reporter Kathy Scruggs might be someone who would use at least one of these tactics to score a front-page story. Boycotts of the film were demanded, and the AJC called the depiction, played by Olivia Wilde, "false and malicious."
So it's possible that Hilde Lisko, star Brooklynn Prince's resolute lead in the new Apple TV+ series, Home Before Dark, might be just the kind of female journalist hero that we need right now. Inspired by award-winning crime reporter Hilde Lysiak, the character has an almost supernatural memory for detail, knows how to build up a rapport with local law enforcement (and decipher which ones she can trust), and isn't afraid to stand up to established community leaders who may be hiding the truth.
She's also nine.
Set amid a damp and murky small-town logging community that seems specially made to delight the likes of Special Agent Dale Cooper, Home Before Dark follows the Lisko family as they move to dad Matt's (Jim Sturgess) childhood home from Brooklyn after he loses his newspaper job. They've barely unpacked before middle child Hilde—who caught the journalism bug early when her father took her to crime scenes in lieu of hiring a babysitter, and helped her start her own community newspaper—stumbles upon a woman who not only knows her dad, but has something for him.
This sets off a chain of events that has Hilde on the case of a potential massive cover-up of a child abduction in the 1980s that envelopes everyone from the sheriff and mayor to Hilde's grandfather, dad, and school principal. Some of these people try to silence Hilde with threats and menacing glares; even her own older sister, Izzy (a sometimes-delightfully uncomfortable-in-her-own-skin Kylie Rogers) can't seem to decide if she wants Hilde to stop with this nonsense because it's bringing down her own chances at popularity, or if she should join her in the fight. But Hilde, whose sense of justice and knowledge of the First Amendment could make her a visiting professor at any journalism school in this country, will not be deterred.
Dana Fox, who co-created Home Before Dark with Dara Resnik, told journalists at the panel's winter Television Critics Association press day in January that she was inspired by '80s movies like Stand By Me and E.T., where a gang of kids outsmarted the adults or did the right thing to save the day—gangs, notably, of boys. Home Before Dark will also no doubt be compared to Netflix's Stranger Things, what with its premise of a small town full of secrets, even though everybody knows everyone else. But, as Hilde and Izzy discuss in this series, this is not the kind of community "that has a poltergeist or a creepy clown. It's the kind that has an explanation for all the weird things."
For better or for worse, Hilde's singular focus also leads her into situations that a more seasoned journalist would know aren't safe or legal (impulsively breaking into a possible murderer's home when he's out? Taking two other kids with you into an abandoned amusement park in search of a source, or trespassing into a junk yard in the hopes of finding evidence? Probably not activities Bob Woodward and Carl Bernstein would advise). In these instances, Hilde is more of a private investigator; a Veronica Mars with long pigtails and a rain slicker, though without the sardonic banter. Like Veronica's prince of a father, Keith, Hilde's parents (her mother, Bridget, is played by Abby Miller) are extremely supportive of her endeavors and speak with her when she makes mistakes—even if they're not aware of how easy it is for her, or Izzy, to sneak out at night after (ahem) they do come home before dark.
In addition to Hilde's profession ("profession"?), Home Before Dark can also play fast and loose with its demographics. The sixth episode opens with a dream sequence that could definitely freak out any kid who's easily freaked out or traumatized by glimpses at Forensic Files (I was afraid to watch Beetlejuice at sleepovers). It also ends with a girl-on-girl brawl amid kids vaping in the bathroom at an '80s-themed dance. Still, co-creator Fox suggested at the TCA panel that this could be a show where "parents would probably watch first to see whether their kids could handle it." (If we're talking viewership numbers, I see what you did there).
As an actual female journalist who has worked as a crime reporter, the show has me torn. I appreciate that there is an effort, both by Prince and the writers, to make sure that Hilde is more than just some one-dimensional cute or precocious brat, and that there seems to be some serious fire in her veins when police officers initially dismiss her with a pat on the head. And do I indeed want to see—and do I want mine and other kids to see—an intrepid female reporter on the case? Yep. Do I wish that there were more adult versions of her on screen? Of course. But do I also wish the particulars of the job were handled more responsibly, especially in the era of fake news, and certainly if kids were going to watch? Uh huh.
Home Before Dark has already been renewed for a second season, so we'll see how, and if, these issues will be addressed as Hilde gets a little older.
Home Before Dark premieres Friday, April 3rd on Apple TV+
---
Whitney Friedlander is an entertainment journalist with, what some may argue, an unhealthy love affair with her TV. A former staff writer at both Los Angeles Times and Variety, her writing has also appeared in Cosmopolitan, Vulture, The Washington Post and others. She lives in Los Angeles with her husband, son, daughter, and very photogenic cat.
For all the latest TV news, reviews, lists and features, follow @Paste_TV.
Upstate News Headlines