Locally owned Interior Design firm Duo Design Studio, were recently hand-picked to be featured in an editorial ideabook on the homepage of Houzz. For owners Christa Sorauf and Gregorie Bylenga, the article is recognition of their commitment and love for design. "We love everything about design so we paint, create licensed art and decorate any and every room we can get our hands on. Our philosophy is that good design makes your life better, and everyone deserves to live beautifully! " You can visit Duo Design at their studio on 117 Cleveland Street or call them at 864-735-0161.
Here's the Article From Houzz
A combined living-cum-dining area has become an integral part of compact homes, studio apartments and open-plan-design homes. This type of layout not only serves two distinct functions but also gives the home a more spacious look that ensures minimum wastage of space. Therefore, it is essential to skillfully integrate the decor of the living and dining areas to give it a cohesive look. Here are tips to get you going.
1. Match the furniture and upholstery
Use a similar style of furniture for the sofas as well as the dining chairs. Upholster the furniture with the same fabric so that it matches and visually connects the living and dining areas.
Open-Plan Design Blunders & How to Avoid Them
Interior Design Tip From: DUO DESIGN STUDIO
You can also mix and match the upholstery, like in this picture. The overall colour palette of this space includes shades of orange, off-white and green. These colours have been cleverly introduced in a harmonious mix on the sofas, arm chairs, dining chairs, cushions, curtains and rug, to bring in a sense of continuity between the living and dining areas.
Find an interior designer among Houzz professionals
2. Introduce area rugs
One of the most practical ways to link the living and dining spaces is by using carpets or area rugs. As you see in this picture, an area rug is used to define the living area and a similar rug is introduced below the dining table to bring the spaces together while defining them separately.
Look at living rooms in Houzz photos
3. Consider an L-shaped sofa
In a compact space, introduce an L-shaped sofa to zone out the seating area and to create an interactive conversation area with the dining space. This can be done by placing the L-shaped sofa along one wall and the position the dining table along the opposite wall, as in this example, so the living area seamlessly flows into the dining space.
Find an L-shaped sofa in Houzz products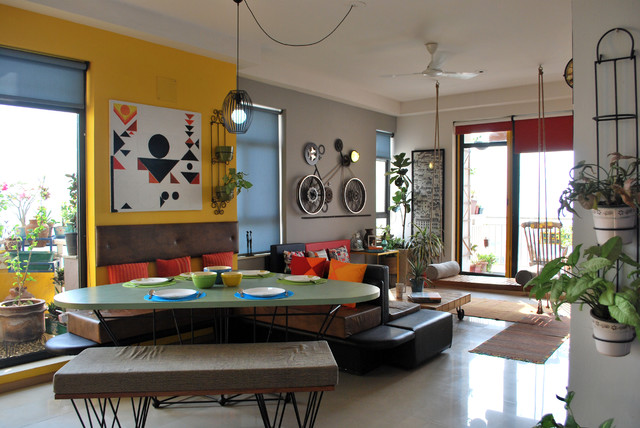 Here, in this example, two L-shaped sofas are placed back to back, where one L-shaped sofa serves as the living area while the other L-shaped sofa combines with a triangular dining table – with softly rounded corners – to function as the
dining space. Pops of colour on the throw pillows and the walls make the space feel more lively.
4. Introduce a wall accent
Unite the living and dining areas with an accent wall that runs through both these areas. In this example, one wall is clad in a wooden panelling; it creates visual interest and ties both these areas together.
5. Integrate the decor with a similar flooring and ceiling
Connect the living and dining areas with similar flooring and uniform ceiling design, which run through both these areas. In this example, the wooden flooring and the bold ceiling design take centre stage and bring the space visually together.
The flat ceiling and wooden flooring run through this living and dining area, uniting the space to give it a neat look.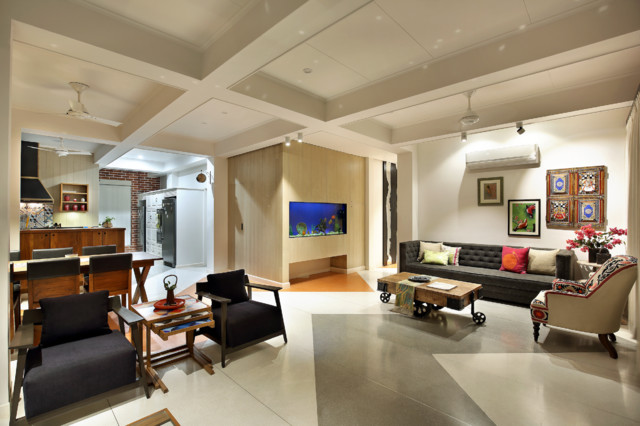 Here's a twist in the flooring design. Although a uniform ceiling design and off-white base tiles run through this living and dining combo, dynamic floor patterns in shades of grey and orange are introduced to aesthetically reinforce the visual connection.
6. Use a similar colour palette
Let the living and dining area share a similar colour palette. In this picture, the neutral colour tones of white and beige flow through the living-cum-dining area and make the space feel more open and airy. The accent wall and the diffused ceiling lighting add further depth to the space.
Tip: Alternatively, choose a monochromatic colour scheme for the living and dining space.
Upstate News Headlines