via wyff.com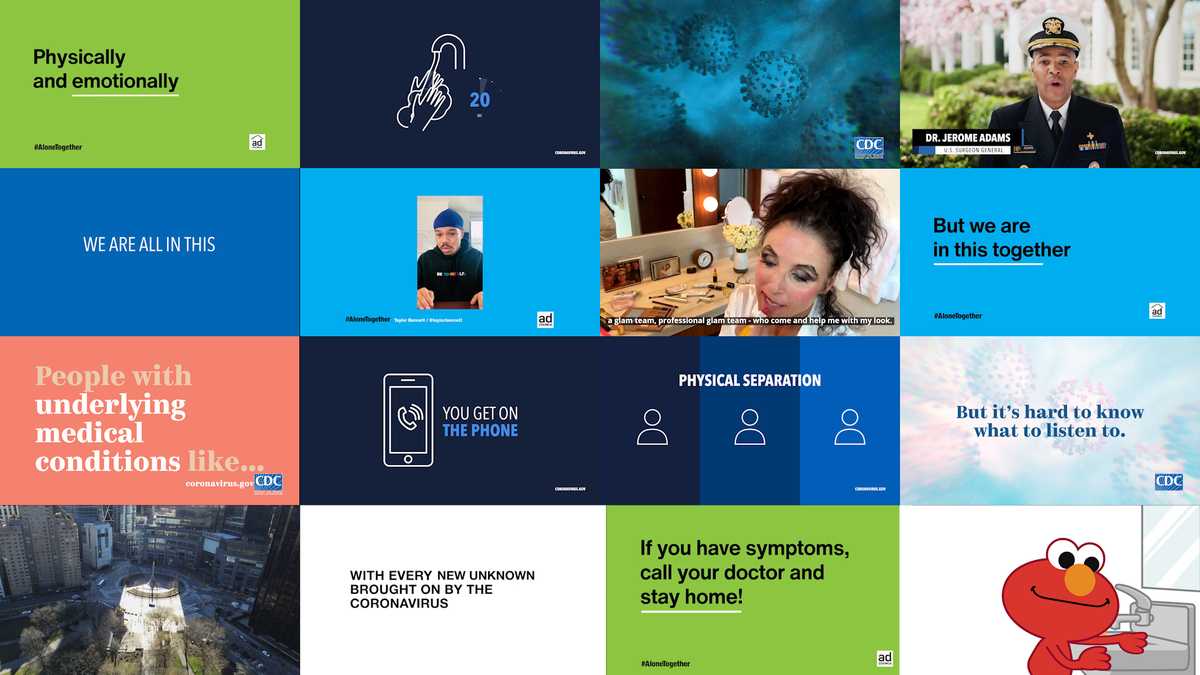 Ads encouraging people to protect themselves and others from the novel coronavirus are getting a lot of attention. Some are even going viral, using a combination of humor, music, and eye-opening images.Sunny day, sweeping the germs away. This new, catchy Sesame Street song made for kids in the coronavirus era has more than 600,000 views.This striking ad — with no voice track — from the Ohio Department of Health may be the most viral COVID-19 public service announcement of them all, dramatically showing how physical distancing works to stop the spread of a virus. The ad was created by Real Art Design Group.More than 45 million views so far across social media, and a tip of the wizardry hat from Harry Potter creator J.K. Rowling."My chem teacher did that same experiment trying to show us how nuclear fission worked," Chris Wire, owner Real Art Design Group said. "And when we started talking about the concept for this, it was like, 'Oh, oh, this could work. This could work well.'"Wire said that nuclear fission experiment inspired the ad.Celebrities and politicians have created dozens of their own coronavirus PSAs. The most effective have a clear call to action, explains Mississippi State professor Holli Seitz."Giving a concrete message and we're stirring emotion: Those are two things that will make a message incredibly memorable."Dr. Seitz co-authored a study into the perceived effectiveness of PSAs. She points out there is a difference between going viral and being effective."If you can have a message that is effective in changing the desired health behavior and you can somehow get virality, then you have a large a better chance of making a big positive effect."
Ads encouraging people to protect themselves and others from the novel coronavirus are getting a lot of attention. Some are even going viral, using a combination of humor, music, and eye-opening images.
Sunny day, sweeping the germs away. This new, catchy Sesame Street song made for kids in the coronavirus era has more than 600,000 views.
This striking ad — with no voice track — from the Ohio Department of Health may be the most viral COVID-19 public service announcement of them all, dramatically showing how physical distancing works to stop the spread of a virus. The ad was created by Real Art Design Group.
More than 45 million views so far across social media, and a tip of the wizardry hat from Harry Potter creator J.K. Rowling.
"My chem teacher did that same experiment trying to show us how nuclear fission worked," Chris Wire, owner Real Art Design Group said. "And when we started talking about the concept for this, it was like, 'Oh, oh, this could work. This could work well.'"
Wire said that nuclear fission experiment inspired the ad.
Celebrities and politicians have created dozens of their own coronavirus PSAs. The most effective have a clear call to action, explains Mississippi State professor Holli Seitz.
"Giving a concrete message and we're stirring emotion: Those are two things that will make a message incredibly memorable."
Dr. Seitz co-authored a study into the perceived effectiveness of PSAs. She points out there is a difference between going viral and being effective.
"If you can have a message that is effective in changing the desired health behavior and you can somehow get virality, then you have a large a better chance of making a big positive effect."
Upstate News Headlines