Join other young professionals from across the Upstate as we pique your interest for impacting our community and region.
The ten counties of the Upstate, including Abbeville, Anderson, Cherokee, Greenville, Greenwood, Laurens, Oconee, Pickens, Spartanburg, and Union counties is home to numerous young professionals. Millennials, who are 23-38 years old, are not the new kids on the block anymore—as of 2020, they will make up half of the workforce, with Generation X making up most of the other half. Filling out the edges are Boomers coming to the end of their careers and Gen Z just starting out.
For this reason, Ten at the Top realized the importance of creating an opportunity for young professionals from across the Upstate to connect with each other, meet Upstate business and community leaders, and have access to valuable personal and professional development opportunities. Five years ago, Ten at the Top began hosting an annual regional young leaders event called Pique, with the goal of bringing together existing young professional groups from across the Upstate.
Keynote Speaker: Sallie Holder
Rock Middle: When Success Doesn't Feel Like Success
Ever checked all the boxes on the road to success, only to discover the destination wasn't what you'd hoped? So, you're asking, "Now what? Where do I go from here?" You've achieved a certain level of success, but the truth is…you feel miserable. All you want is to love what you do, but you just aren't sure how get "there" without someone showing you the path. Through the "BE BOLDER" framework you will find your path.
Sallie Holder is a nationally recognized public speaker and trainer and has spent the last fifteen years speaking and training on a variety of topics to help businesses, employees, & entrepreneurs achieve their highest level of success. Sallie is an energetic and dynamic speaker who leaves her audience feeling motivated to take action. Her presentations are filled with tactical tools that can immediately be incorporated into your business to produce results. These tools come from her years of experience in both the corporate and entrepreneurial world and are not simply abstract theories.
For full information about Sallie and Pique 2020, click here.
2020 Breakout Sessions
Executive Networking Roundtables
Young leaders have a thirst for knowledge, advice and mentorship. This workshop will feature an interactive session of roundtable networking. Established business and community  leaders (executives) from all sectors, regardless of age, will be invited to lead a discussion about how they got where they are, how they found what they needed to successful and the barriers they have overcome to reach success
Negotiating Your Best Career
You know where you are now, and you know where you want to go in your career (or have a general idea, anyway), but do you know how to get there? Whether it's more money, more leadership, or more work-life balance, it's important to know what to ask for and how to ask for it in order to reach your goals, and the panelists will talk you through those negotiations.
Moderator: Virginia Cebe, Corporate Communications Project Manager, ScanSource
Panelists:
Steve Hall, Vice President of Business Development, Find Great People
Ken Peterson, Senior Director of Human Resources, ScanSource
Dr. Melissa Walker, President, HeyDay Coaching
Community Engagement: Building Your Career Outside of Your Office
One of the best ways to enhance your resume that has nothing to do with the actual work you do is to be actively engaged in your community. Volunteering, sitting on boards and committees, and other forms of community engagement make you a well-rounded and outward-thinking individual, which is attractive to employers as you move up in your career. But more than that, it's a great way to grow as a person!
Moderator: Reah Smith, Realtor, Lake Keowee Real Estate
Panelists:
Alan Ethridge, Executive Director, Metropolitan Arts Council
Corie Culp, Community and Public Relations Manager, AFL
Adela Mendoza, Executive Director, Hispanic Alliance
Conflict Management: Effective Communication for a Peaceful Workplace
Workplace communication can be tricky business—differing personalities, personal and professional competition, and conflicting priorities lead to unproductive communication and sometimes conflict and strained relationships. The professionals on this panel will talk about strategies for navigating those challenges and creating a peaceful workplace for yourself and your co-workers.
Moderator: Alex Moore, Director of Marketing and Communications, United Way of the Piedmont
Panelists: 
Margot Shaffer, General Manager, Corley Plumbing | Air | Electric
Stephanie Tarbet, Director of Internal Communication, Michelin
George Shira, Vice President of Human Resources—Chemical Division, Milliken
Special thanks to our sponsors!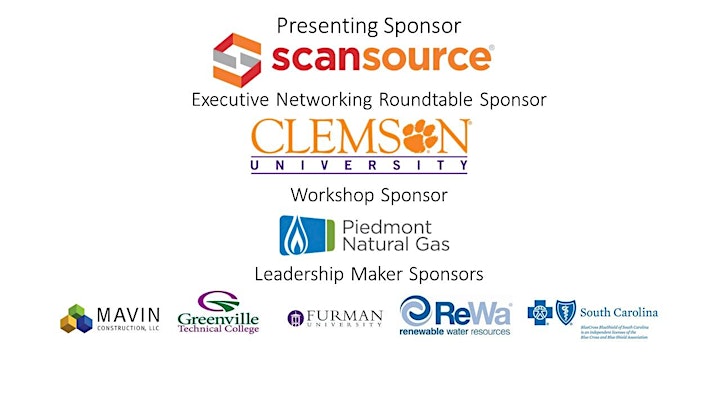 Upstate News Headlines