OnePalmetto Scholarship and College Fair Greenville, SC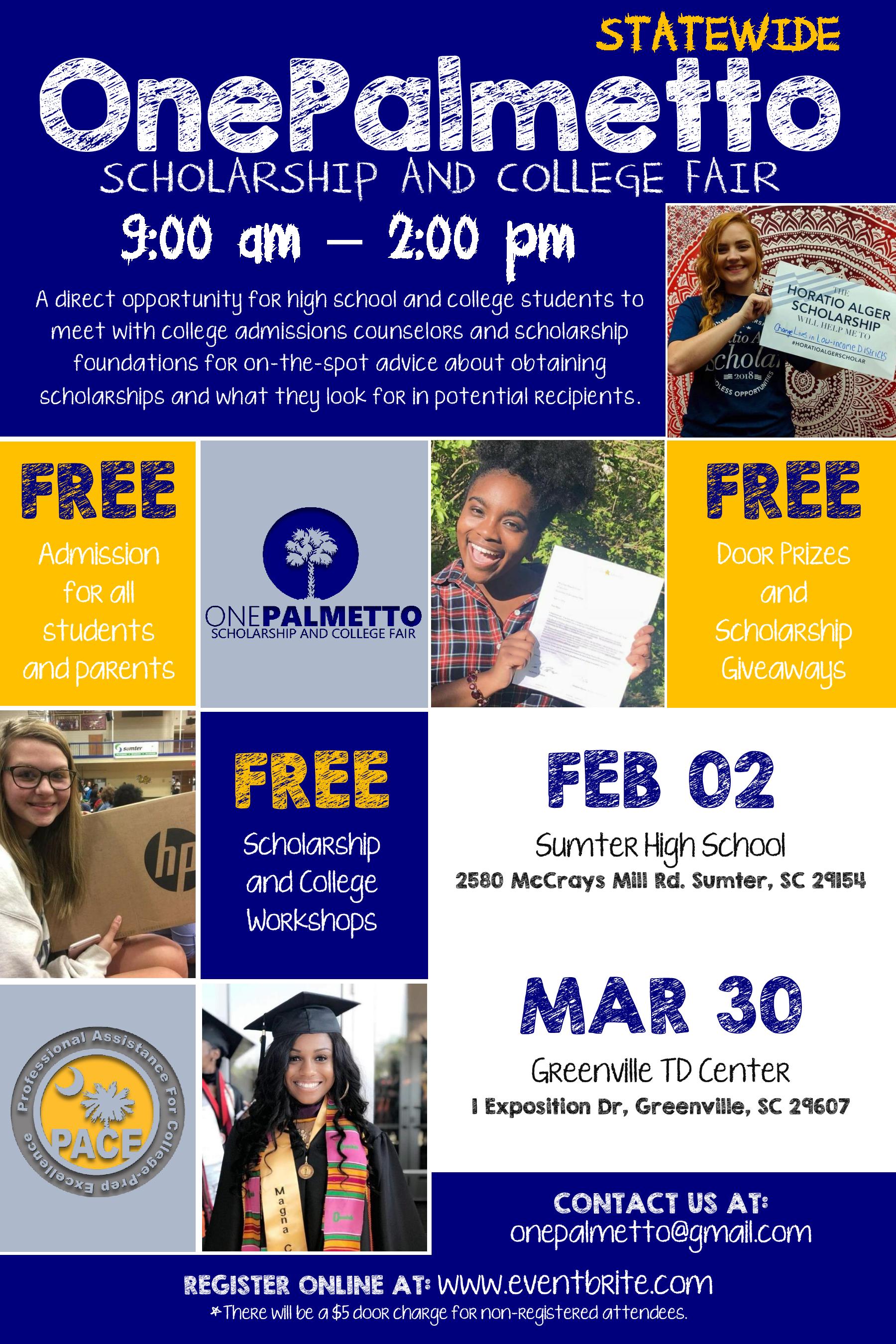 With nearly 2,000 participants attending last year's event, PACE Scholarship Academy is excited to host our scholarship fairs in two locations in 2019, Sumter High School (February 2, 2019), and the Greenville TD Center (March 30, 2019). Each event will be held from 9:00 a.m. to 2:00 p.m. We anticipate even more participation this year and want to ensure that these free events allow as many parents and students to attend as possible.
Our goal is to expose ALL high school students to potential scholarships and college opportunities and to encourage current undergraduate and graduate students who still need financial assistance to apply for qualifying scholarships. We are also promoting volunteer opportunities and the importance of joining professional organizations while in college, as we aim to foster "well rounded students." We are giving away multiple $500 scholarships, HP laptops, Kindles, Google Homes, gift cards, HP printers, etc. on the day of this event. This is a FREE event as long as you register by the deadline! You MUST print and present your ticket in order to be admitted on the day of the event. 
————————————–
Please follow us on Facebook @PaceScholarshipAcademy for updates and more information concerning these STATEWIDE fairs and our scholarship essay contest. Winners of the scholarship essay contest will be awarded at each event. Students MUST be present at the event to be awarded a scholarship. Plan ahead to participate in one or more of our Scholarship and College fairs. SPREAD THE WORD!
SCHOLARSHIP ESSAY CONTEST COMING SOON!!!
————————————–
Sumter High School (February 2, 2019) 2580 McCrays Mill Rd. Sumter, SC 29154
Greenville TD Center (March 30, 2019) 1 Exposition Dr, Greenville, SC 29607