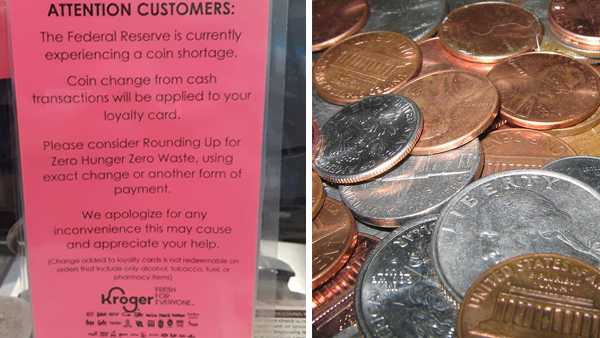 Kroger stores are no longer providing coin change for most transactions.Signs are posted throughout most area stores informing customers of the new change. Customers at all manned checkout lines will no longer receive coins back for cash payments. Instead, customers are being asked to use exact change. Above video: Here's how the coronavirus caused a nationwide coin shortageIf exact change can not be provided, customers are asked to either round up — in support of Kroger's Zero Hunger Zero Waste initiative — or have that coin change applied to a customer's loyalty card.If a customer chooses the latter option, that remaining change will automatically apply to the customer's next purchase, Kroger spokesperson Erin Rolfes confirms. Change will still be given at self-checkout stations throughout Kroger stores, Rolfes added. The reason for the lack of coin change? There's a coin shortage at the Federal Reserve amid the coronavirus pandemic. "What's happened is that, with the partial closure of the economy, the flow of coins through the economy has gotten all — it's kind of stopped," Federal Reserve chairman Jerome Powell said during a virtual hearing with the House Financial Services Committee last month.That's because the supply chain that coins usually flow through has been interrupted during the pandemic, Powell said.Banks and businesses have shuttered or changed the way they operate. And so there are fewer coins reaching the public."The places where you go to give your coins, and get credit at the store and get cash — you know, folding money — those have not been working. Stores have been closed," he said. "So the whole system has kind of, had come to a stop."
CINCINNATI —
Kroger stores are no longer providing coin change for most transactions.
Signs are posted throughout most area stores informing customers of the new change. Customers at all manned checkout lines will no longer receive coins back for cash payments.
Instead, customers are being asked to use exact change.
Above video: Here's how the coronavirus caused a nationwide coin shortage
If exact change can not be provided, customers are asked to either round up — in support of Kroger's Zero Hunger Zero Waste initiative — or have that coin change applied to a customer's loyalty card.
If a customer chooses the latter option, that remaining change will automatically apply to the customer's next purchase, Kroger spokesperson Erin Rolfes confirms.
Change will still be given at self-checkout stations throughout Kroger stores, Rolfes added.
The reason for the lack of coin change? There's a coin shortage at the Federal Reserve amid the coronavirus pandemic.
"What's happened is that, with the partial closure of the economy, the flow of coins through the economy has gotten all — it's kind of stopped," Federal Reserve chairman Jerome Powell said during a virtual hearing with the House Financial Services Committee last month.
That's because the supply chain that coins usually flow through has been interrupted during the pandemic, Powell said.
Banks and businesses have shuttered or changed the way they operate. And so there are fewer coins reaching the public.
"The places where you go to give your coins, and get credit at the store and get cash — you know, folding money — those have not been working. Stores have been closed," he said. "So the whole system has kind of, had come to a stop."